Chocolate Path cycle route in Bristol closed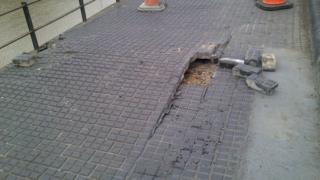 A busy pedestrian and cycle route in Bristol has been closed because it has become too dangerous to use.
Chocolate Path, next to Cumberland Road, was shut with "immediate effect" by the city council on Tuesday night due to "significant ground movements".
Barriers have been put up and reinforced to prevent access.
The council, which is responsible for its upkeep, said the route would remain closed while engineers investigate the cause of the movement and damage.
The path, which takes its name from the pattern of the paving, runs between the city rail line and the River Avon.
In March it became submerged when the river burst its banks following a combination of high tides and a tidal swell.