Tributes paid to BBC Radio Bristol presenter Trevor Fry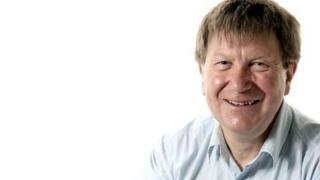 Tributes have been paid to the BBC Radio Bristol presenter, Trevor Fry who has died, at the age of 68.
He started his career on hospital radio before moving to Bristol's first commercial station, Radio West in 1982.
He joined BBC Radio Bristol in 1997 and presented the Sunday Morning Breakfast Show and the Late Show.
His programmes were heard around the South West, including Gloucestershire, Devon and Cornwall, as well as the Channel Islands.
Managing Editor of BBC Radio Bristol, Tim Pemberton, said: "Trevor was an outstanding broadcaster, colleague and friend…and will be greatly missed."
Trevor Fry had wanted to work for the BBC since he was seven-years- old.
He said he loved every minute of his working day and life - and in 2010 won a Radio Academy Award for his tribute programme to the World War One veteran, Harry Patch.
The judges said the programme was: "An historic moment carried live around the world.
"The death of 'the last Tommy' and its importance was beautifully and sensitively described with a real sense of being at the service at its heart."
'Huge shock'
Mr Pemberton said Trevor "embodied the best of local radio with his warm tones and love of the area that he served".
"He was the last voice that many of our listeners heard at night and was a firm favourite on Sunday mornings for many years as well."
Trevor's wife Sue said his death at home on Friday "has come as a huge shock and we are all completely devastated.
"We are thankful for all the messages of support, however we would all appreciate some time to come together as a family to process."
Bishop Peter Price the former Bishop of Bath and Wells was a guest on the Sunday breakfast programme many times.
He said Trevor's interview technique allowed guests to tell their story.
"He didn't ever hector you, he always enabled, by his very sharp thoughtful questioning, to let the story come out."
Dream job
Bishop Declan Lang the Roman Catholic Bishop of Clifton was another regular guest.
"Trevor's service to the church in Bristol and Somerset was colossal because what he did was to ask questions of people of Christian faith and enable people to share their stories but also to give an account for what we believe."
Tributes have also been paid by his fellow broadcasters.
Stephen Lamb is a friend and former colleague from his time at GWR.
"You could always tell that he struck a chord with people and he loved his music as well and was very, very knowledgeable about it."
David Garmston who worked with Trevor at Radio West said he was always very professional.
"He was thrilled to be working for the BBC - it was a dream come true for him and he never took it for granted.
"When we saw him coming in to prepare for his shows, after 20 years doing it a lot of people would busk it, but Trevor would be in early preparing."