Ancient remains found atop Bristol University cupboard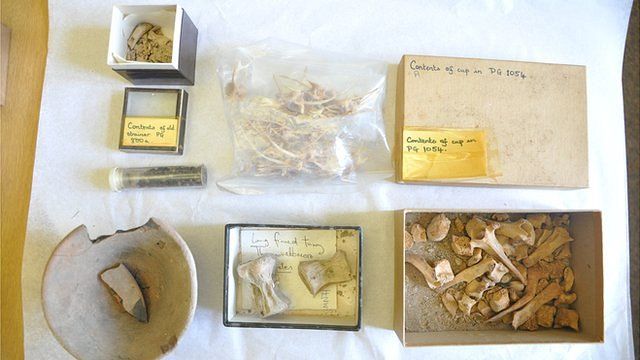 Food offerings from a royal tomb of ancient Mesopotamia have been found on top of a cupboard in Bristol.
The 4,500 year-old crab apple rings and fish bones were excavated from what is now southern Iraq in the 1920s but turned up at the University of Bristol.
The British Museum, which sponsored the original excavation, said the recovery of the finds was "exciting".
Dr Tamar Hodos, a university lecturer, said: "The remaining mystery is how it came to be here in the first place."
The ruins of the long-buried city of Ur were unearthed by British archaeologist Sir Leonard Woolley in the 1920s and early 1930s.
Sponsored by the British Museum and the University of Pennsylvania Museum, the finds from the dig were distributed between London, Philadelphia and Baghdad.
But during a clear-out of the University of Bristol's archaeology and anthropology department, a heavy wooden box was found with index cards linking it to Sir Leonard's excavations.
"I saw these keywords like predynastic, sargonid and royal tombs," said Dr Hodos.
"I Googled them and up popped the British Museum's excavations of the royal tombs at Ur."
The desiccated remains, which include tunny fish bones and crab apple rings, were studied in the 1970s for a paper published in the Journal of Archaeological Science.
But according to Dr Hodos, none of the authors had any connection with the university and "cannot account for how the material came to be in Bristol".
The British Museum, which has acquisitioned the remains, said they were "hopeful" they would go on display but because of their "organic nature" it would only be for short periods at a time.
Related Internet Links
The BBC is not responsible for the content of external sites.