Bijan Ebrahimi murder: Four more quizzed by police watchdog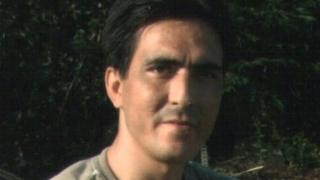 Four more police officers and a PCSO are being investigated as part of a police watchdog inquiry into the death of a man wrongly branded a paedophile.
Bijan Ebrahimi, from Bristol, was killed and his body set on fire after repeatedly calling Avon and Somerset Police for help.
Lee James, 24, of Capgrove Crescent, Bristol, who admitted murder, was jailed for a minimum of 18 years.
Stephen Norley, who admitted assisting an offender, was jailed for four years.
An Independent Police Complaints Commission (IPCC) spokesman said the new notices had been served on an inspector and two sergeants, relating to Mr Ebrahimi's period in custody.
A police constable and a PCSO who were part of the police response to calls on 12 July were also served notices.
"The notice informs the officers they are are under investigation for misconduct offences," he added.
It takes the total number of officers under investigation in relation to the murder of the Iranian national up to nine. Seven civilian police staff are also under investigation.
Of these nine, three are currently under investigation for suspected criminal offences.
An inspector, sergeant and a constable who dealt with the Iranian national in custody on 12 July 2013 have already been interviewed on suspicion of gross misconduct.
"We have since withdrawn the notice for gross misconduct against another inspector who has been advised that he is no longer subject to IPCC investigation," an IPCC spokesman said.
"A control room supervisor, a dispatcher and four call handlers who dealt with phone calls from Mr Ebrahimi have also been interviewed by the IPCC for gross misconduct," he added.