Simon Tandy police shooting: Officers actions 'proportionate'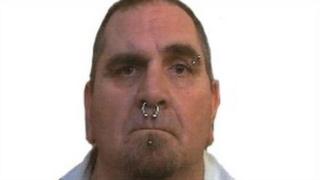 The shooting of a disabled man in his wheelchair by police was "proportionate, reasonable and necessary," a watchdog said.
Officers were called to Simon Tandy's house in Keynsham, near Bristol, last May, following reports he had a weapon.
He was ordered to drop his legally-owned airgun but refused. After being shot with a baton round, he raised his weapon again and was shot in the leg.
The Independent Police Complaints Commission found no case to answer.
Tandy, 48, was jailed for four years after admitting two firearms offences.
At his trial in September, Bristol Crown Court was told officers were called after Tandy picked up his firearm during a heated argument with his fiancée and discharged it.
Malandra Marshall, who dialled 999 when Tandy threatened to shoot her dog, managed to flee the house with the animal.
'Thigh bone shattered'
Armed officers surrounded the property and Tandy emerged from the front door with the air rifle before raising it towards them.
Police first attempted to disarm Tandy by shooting him in the stomach with a baton round, with the impact throwing him backwards.
He managed to hold on to his Hw35 rifle and as police approached to restrain him, he pointed it towards the lead officer's head.
An officer then shot him in the left leg with a live round - the bullet going through his thigh and shattering the bone.
The court was told Tandy was restrained and taken to hospital, where he required two weeks of treatment for the "significant injury".
Tandy later made a complaint against Avon and Somerset Constabulary for its handling of the incident.
The investigation found no case to answer for misconduct against either officer and identified there was no "organisational learning" needed by the constabulary following the incident.
Associate Commissioner of the Independent Police Complaints Commission (IPCC), Guido Liguori, said officers faced a man with a "lethal weapon" who posed a threat to himself, the public and officers present.
'Dangerous situation'
"The incident was dealt with along recognised guidelines and there is no evidence Avon and Somerset's response was in any way deficient," he said.
"While it is unfortunate that Mr Tandy was shot and injured, the officers involved faced a dangerous situation and acted in accordance with their training and the law."
However the watchdog did criticise the time taken to brief the force's professional standards department, which "impacted on the timeliness" of referring the incident to the IPCC.
Supt Paul Richards, from Avon and Somerset Police, said the report showed that the officers acted with "great restraint and professionalism" and "completely selfless bravery".
"After they were forced to discharge their firearms they immediately took on the role of saving his life.
"I commend them all for their actions on that day."