Bristol 10k runners wait one month for race medals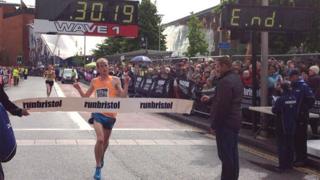 More people who took part in the Bristol 10k have received their medals, one month after the race took place.
Almost 9,900 people finished the race on 11 May but more than 370 people ended up without medals.
Runner Michelle Watson said: "There was a box of medals and people were apparently grabbing them. By the time we got there, there weren't any left."
Run Bristol said all medals and t-shirts have been posted out and should be received "imminently".
Race director Georgette Van Hoof said: "We would like to thank all those who have been in touch for their patience and understanding whilst we organised these arrangements and apologise for any distress or inconvenience caused to those involved."
The race director added if people had not got their medals still, they should contact the race administration and let them know.