First Bus fares shake-up in Bath and Weston-super-Mare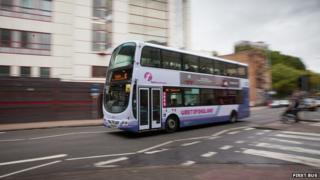 Bus fares in Bath and Weston-super-Mare have been restructured after a public consultation.
First Bus has brought in discounts for young people, abolished return tickets and created flat-rate single fares in both Weston and Bath.
Paul Matthews, from First, said: "We believe 80 plus percent will be paying less in Bath than they are currently doing."
The changes will come into effect from 6 July, First Bus has said.
'Well done'
Children aged between five and 15 will get a 50% discount on all fares.
Young people aged between 16 and 21, and students with a First identity card will get a 30% discount on all fares.
Edward Joseph, member of the youth parliament for Bath and North East Somerset, surveyed 273 young people on tickets, the results of which were given to First.
"Now I can go back to those people who completed the survey and thank them and I can say 'Well done, we have got through to First'," he said.
Flat rate tickets in Bath will cost £2.20 and £2 in Weston and will enable people to travel anywhere within the defined town zone in Weston and within three miles of the bus station in Bath.
Cabinet member for Transport at Bath and North East Somerset, Caroline Roberts said: "There are going to be winners and losers."
First Bus also introduced a new fares structure for Bristol last November as a result of a one-man campaign for cheaper tickets.