The stories behind Bristol's tattoo culture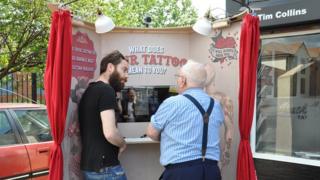 Tattoos are not just body art - they also offer an insight into the people who wear them. Now the tattoos of people in Bristol are being recorded for an exhibition looking into the city's tattoo culture.
A mobile tattoo parlour has gone on tour in the south of the city. Visitors will not be greeted by needles and ink but instead by a webcam and a keyboard, allowing them to tell their stories.
It is hoped the results will feature in an interactive exhibition produced by the Knowle West Media Centre.
Here are some of the individuals who were first in the queue to tell their story.
Lisa Heyman got her tattoo done last year to remember her father who died from cancer.
She designed it herself with a bit of help from a tattooist because her father wanted to see it before died.
"I had it done and two weeks later he left us," the mother-of-four said.
"We have an ashtray because he was a very heavy smoker and there's a fishing rod as he used to take us fishing a lot
"He was a big gambler so we've got the royal flush and the poker chips and of course I was daddy's girl."
Retired sailor Joe Cook decided to have his first tattoo in the 1940s while he was in Ceylon [modern Sri Lanka] on shore leave from the Royal Navy.
But things then were not so hygienic as they are now.
"We walked down this lane in Colombo into a courtyard and met the tattooist who was cleaning his pens in an old cistern full of green water covered in scum," he said.
He said the tattooist had a piece of bamboo with seven or eight bamboo needles taped on to it.
"I looked down at my arm and all I could see was black ink and blood running down and thought that's going to be a mess.
"Then he wiped it away with a dirty cloth.
"But once it healed I was really pleased with the result."
When his wife died 10 years ago he wanted something he could remember her by that was not a photograph.
He had a small broken heart tattooed on to his arm with her name May in the middle.
He also had the phrase "Goodnight God bless" tattooed on his arm because that was what they said to each other last thing at night.
Patrick Chant's tattoos of Leeds United FC were done by his son Michael, who wants to become a tattoo artist.
"I practice on myself," said Michael. "It's a lot easier and if it hurts you can stop. If it doesn't you can just carry on and get it done," Michael said.
"I've got quite a few myself and they're based around my family.
"It seems to be a growing thing at the moment and everyone is interested in tattoos."
"I'd always wanted a tattoo but had been too chicken to have it done. Last year I thought it was now or never. My latest is my yin-yang... and it's so lush," said Lisa Maloney, 45.
"I really didn't think she'd have it done," said her 18-year-old daughter Sam.
"I've only got two at the moment, I've got a paw print behind my ear which I had for my 18th. I'm terrified of needles and I needed a tetanus jab - so mum said I could have it as a reward.
"My next ones will be of a daisy or a butterfly - but I haven't decided where yet."
Naomi Trickey, 43, said years ago tattoos were really frowned upon and looked down on but she did not feel that was now the case.
Hers are dedicated to her children, including one of her daughter's hands featuring her bitten finger nails.
"My next one is going to be a portrait of my son's face but I still haven't decided where to have it yet," she said.
"That's the thing about tattoos - they need to be thought about and not just done on a drunken night because those are the ones people regret."