South Gloucestershire Council to sell safety cameras to police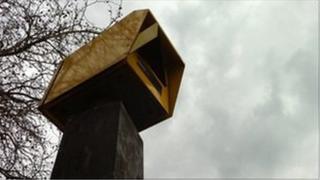 Unused speed cameras in South Gloucestershire will be bought by police "for a nominal sum".
The 23 cameras were switched off in March 2011 after the safety camera partnership was disbanded.
At a planning and transport committee meeting, councillors voted to transfer them to the police to allow them to be operated at no cost to the authority.
The seller, South Gloucestershire Council, has not said exactly how much the cameras will be sold for.
The authority currently owns eight digital speed cameras and three digital red light cameras.
It also owns seven film red light camera and five film speed camera installations - which are considered no longer cost-effective to run.
'Trying to reactivate'
Last December, the chief constable of Avon and Somerset Constabulary offered to buy any digital speed or red light cameras from local councils unwilling to operate them for £1 each.
Although council accident statistics show an 85% compliance at the fixed camera sites, police said this still meant 15 out of 100 motorists were speeding, and that was unacceptable.
"There are over £2m worth of static cameras which are slowly decaying at the roadside and we believe they can be turned back on in a cost-neutral way," said Ch Insp Ian Smith.
"There's about 50 across Avon and Somerset [force area] that we are trying to reactivate."
But Conservative councillors - who said it was a "split vote" - argued the public should have been consulted before any decision to switch them back on was taken.
"The evidence locally shows that since the speed cameras were switched off accident rates now stand at their lowest level ever," said Cllr Brian Allinson.
"The council should therefore give local people a chance to have their say on this important issue."