First Bus Bristol fare cuts sees passenger growth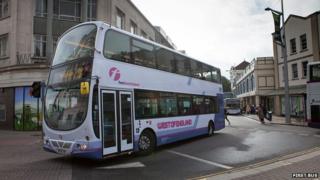 More people are using First buses in Bristol partially because of a new fares structure, the firm has claimed.
First changed its ticket prices in the city following a one-man campaign by a local bus user for cheaper fares.
First has said the 15% increase equates to 53,000 extra journeys a week compared to April and May last year.
However, the firm has agreed to change a misleading advertisement following a complaint to the Advertising Standards Authority (ASA).
An informal agreement has been reached following a complaint about fare information on a leaflet and on the company's website.
It means the advertisement will now be changed and no formal investigation will take place.
Paul Matthews from First said he was pleased passenger numbers had gone up but it was a slow process.
Better customer service
"It's not simple to suggest you cut fares one day and you see immediate volume and revenue growth the next day," he said.
Since November, First has operated two zones - an inner (up to six miles from the city centre) and outer (six to 12 miles).
They also offered half-price single tickets to under-16s for single tickets in the inner zone.
The firm said it believed 9% of the increase was due to the new pricing structure.
It attributed the remaining 6% increase in passenger volume on other factors such as new buses, free wifi, extra bus services and recruiting bus drivers with better customer service skills.
Next week, the results of a fares consultation held earlier this year, are due to be released.