Bristol's The Fleece closure claims 'not true' say developers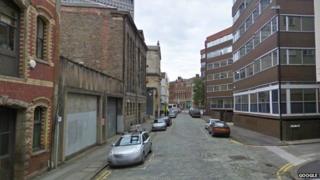 Developers of new flats in Bristol have denied a music venue will be forced to close if the scheme goes ahead.
Owners of The Fleece claim it may have to shut because bedrooms would be too close to the stage and they fear people will complain about noise.
Developers Edenlaw Ltd said the claims were "not true" and the development would improve an unused building.
An online petition calling for the council to turn down the plans has received more than 40,000 signatures.
'New life'
The flats, planned for an old office block on Victoria Street, would place bedrooms within 20m (65ft) of bands playing at the venue.
A spokesman for Edenlaw said: "Whilst we are keen to see our building given a new lease of life, we certainly have no wish to see The Fleece close."
The developer was granted a change of use from offices to residential last November, but the council was unable to take noise into account during the process.
Bristol City Council planners are due to vote on proposed external alterations to the plans next month.
Mr Sharp said he welcomed the fact Edenlaw did not want to see the venue closed, and he would be happy to meet with them after a further noise study report has been released.
"It would be very regrettable if Edenlaw carry out their threat to use the building for residential, regardless of the outcome of their current external works application," he added.
"If they did, the flats closest to The Fleece wouldn't be fit for human occupation and the inevitable consequence will be a long drawn out legal battle with the council where nobody wins."
The Fleece has hosted many famous acts since it opened in 1982 including Oasis, Radiohead, Amy Winehouse, Manic Street Preachers, The Killers and The White Stripes.