Apology over Bristol protester's 'removal by mayor'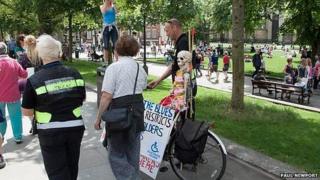 The organisers of a community event in Bristol have apologised after a protester was asked to move "on the orders of" the city's elected mayor.
Security guards told Dee Muir to move but mayor George Ferguson denied asking them to do so.
Organisers said the order had been given after a "miscommunication".
The protest against restrictions for disabled drivers in residents' parking zones (RPZs) took place at the Park on Park Street event on Sunday.
Security officers working for a private company were employed by organisers of the event, which saw Park Street closed off to traffic and the area turned into an urban park.
Audio recorded on Ms Muir's mobile phone supported her claim that she was asked to move on.
'Radio miscommunication'
In the recording a security guard is heard to say: "The mayor has requested you be removed off the premises. We're here under his instructions to have you removed."
Nadia Abdulla, from event organisers Park Street Traders, said: "It was a miscommunication over the radio. We can only apologise."
On Monday Mr Ferguson said he "had absolutely nothing to do with" asking Ms Muir to be moved.
"I didn't speak to anyone about removing a protester from the Park Street Traders' excellent event, and nor would I dream of doing so, more especially since that is just what they would have wanted.
"If anyone from the organisers or the private security firm invoked my name I am afraid they were making an incorrect assumption."
Ms Muir said the "whole set-up" was "seriously flawed".
She said she would write to Avon and Somerset Police to ask about "the legality of private security firms moving people on, on a public highway".