Winterbourne View scandal: Family's plea over ex-resident's care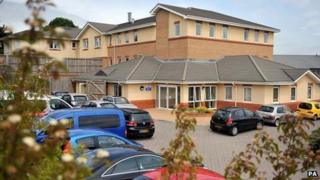 The family of a former resident of a care home that was shut down after an abuse scandal are calling for him to be treated closer to home.
Richmond Bush, 40, was a patient at Winterbourne View, near Bristol, but is now being treated in Hampshire.
The home was closed following a BBC Panorama investigation in 2011 and six out of 11 staff were eventually jailed.
Last year care minister Norman Lamb said many former residents were still living too far from home.
The undercover Panorama investigation showed patients, many with severe learning disabilities, being abused and neglected by care workers.
Mr Bush's mother Julie Morse said although what happened "wasn't very nice", Mr Bush had been "happy" there because he was close to his family.
Since the home closed later in 2011, he has been cared for in a number of places but is now in a hospital near Basingstoke, 90 miles (145km) from his family.
'Absolutely unacceptable'
In December Mr Lamb said the situation remained "unacceptable" and pledged to get people out of hospital and into communities by 1 June.
Earlier this month, he called the transfer plan an "abject failure" and now says a "complete culture change" is needed.
"It is absolutely unacceptable for people to be left in institutions if they are able, with support, to live in their own community," he said.
"I want to see a real change of pace over the next few months.
"We are insisting that commissioners review the cases of all people currently in inpatient settings, to ensure that no-one is inappropriately kept in hospital settings."
Although Mr Bush has been offered a place close to his home in Yate, near Bristol, funding arrangements are still being discussed.
'Permission to visit'
Ms Morse said when he was at Winterbourne View, he was just four miles from home and his family could visit and take him out every week.
"Richmond's now on his fifth placement in Hampshire," she said.
"When he rings up and says 'Mum, I'm not very happy', I can't just jump into a car - I've got to get permission to visit him.
"Sometimes it takes five or six days for them to decide if I can visit."
NHS England, which is responsible for Mr Bush's care, acknowledged it was "distressing" for families to travel so far from home to visit.
"Every effort is made to work with families to identify long-term solutions so that individuals can live closer to them and as independently as possible," it said.