Clifton parking row: Three-hour maximum stay suggested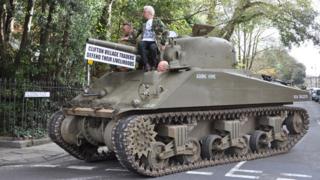 A new offer of a three-hour maximum stay for parking in Clifton village is being made to end opposition to a planned residents' parking scheme.
Bristol City Council has begun a consultation in the streets where pay-and-display parking is proposed.
Last month traders angry with the plans drove a 1942 Sherman tank around Clifton in protest.
The mayor of Bristol wants to implement a city-wide scheme to deter commuter parking on residential streets.
Under the scheme residents would pay between £48 and £96 for permits.
'Too many cars'
The new consultation will deal with just one issue: whether people support an updated proposal to change the planned one and two-hour maximum stay parking places in the centre of Clifton village, instead making them three-hour spaces.
The move follows feedback to the council's formal consultation on its Traffic Regulation Order, which saw proposals for one-hour and two-hour spaces receiving the largest number of objections.
Mayor George Ferguson said: "I am confident that this residents' parking scheme will work well for Clifton village which currently suffers from too many cars fighting for too few spaces.
"There has been a strong voice supporting longer parking times for some streets, despite the nearby options for three and five-hour parking.
"I know this was at least partly due to a campaign by traders in particular, so in proposing a change to three hours I want to be sure that this wouldn't find equally strong opposition from a different set of people."