Bristol parking zone implementation delayed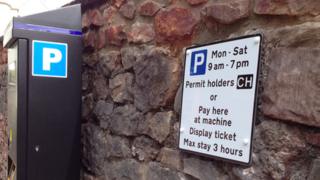 Plans to roll out a new residents' parking zone have been delayed due to a backlog in the number of permits being issued.
The Cliftonwood and Hotwells zone is the seventh area in the city to bring in the parking enforcement by Bristol City Council.
The authority said the backlog was due to "insufficient information being received with some applications".
A two-week grace period has been given for people parking in the marked bays.
Instead, motorists will be given letters warning them about the scheme.
Once the restrictions are imposed, motorists will be able to park for a maximum of three hours in most residential streets.
Last month, a protest was held by traders against another proposed zone in nearby Clifton Village.