Bristol's The Fleece closure fears over new flats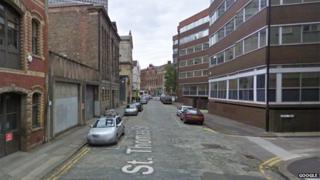 The owners of Bristol music venue The Fleece say it may have to close if a plan for new flats is approved, as they would be too close to the stage.
The flats, planned for an old office block on Victoria Street, would place bedrooms within 20m (65ft) of bands playing at the venue.
An online petition calling for the council to turn down the plans gained 17,000 signatures in 12 hours.
The firm behind the plans said it wanted to "satisfy a gap" for flats.
The Fleece has hosted many famous acts since it opened in 1982 including Oasis, Radiohead, Amy Winehouse, the Manic Street Preachers, The Killers and the White Stripes.
'No complaints'
Owner Chris Sharp said: "The Fleece has thrived as a venue for 32 years. One of the key factors in its success is its location.
"The lack of residents in the surrounding streets has meant the venue has been able to offer live music seven nights per week and club nights until 4am at weekends without disturbing anyone.
"During its entire history The Fleece has not had any issues with noise complaints.
"If the huge office block located right next door is given the green light to be converted into approx 80 privately-owned flats we would anticipate a deluge of complaints as soon as people move in."
Developer Edenlaw Ltd was granted a change of use from offices to residential last November but the council was unable to take noise into account during the process.
A noise survey carried out on behalf of the developer said the Fleece had been "identified as a source of noise affecting the proposed development" but claimed glazed windows would insulate most of the sound from the venue.
Council planners are due to vote on proposed external alterations to the plans, including changes to the facade and the addition of balconies, at the end of the month.