Runners complain over Bristol 10k 'missing medals'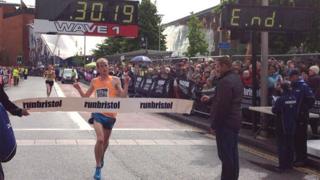 Hundreds of runners who took part in Bristol's 10km road race earlier this month have still not received commemorative medals and T-shirts.
Almost 9,900 people finished the race on 11 May but more than 370 people were left without the items.
At the time organisers said more people than expected had raced, and promised to order more shirts and medals and post them to those who missed out.
A spokesman for Run Bristol said they would be sent "as soon as possible".
'So deflated'
One charity runner, Michelle Jones, from Cheltenham, said the requested method of alerting organisers by email if medals were missing had been "confusing".
"I'm not 100% sure we'll get them. I won't do the race again next year. I felt so deflated not to have received a medal."
Another competitor, Kathleen Westaway, said she was angry with organisers for asking competitors to contact them by email to ask for the medals, and said she felt "upset" and "let down".
A spokesperson for Run Bristol said: "It does take a little time to get new stock, but orders have been placed and the T-shirts and medals are in production.
"In the meantime we've been contacting runners and updating people via the Run Bristol website.
"We'd like to thank people for their patience and apologise again for the situation having occurred.
"We hope to have stock within a few weeks and will send out the missing items as soon as we can."