Bristol mental health contracts are 'chance to get it right'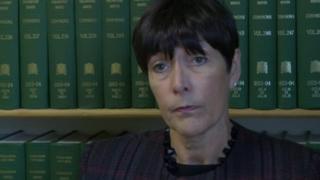 New contracts for the care of mentally ill people in Bristol offer a "once in a generation" chance for change, an MP has said.
The services are currently run by Avon and Wiltshire Mental Health Partnership but were put out to tender after complaints about poor service.
Labour's Bristol South MP, Dawn Primarolo, said the winning bidder had a "duty to get this right".
The Clinical Commissioning Group will announce the winning bids on 28 May.
Avon and Wiltshire Mental Health Partnership (AWP), which has its HQ in Chippenham, 40 miles away from Bristol, has been accused of having top heavy management and not listening to clinicians.
'Grand plans'
Bristol Clinical Commissioning Group (CCG) said, in November when it announced the contracts would be put out to tender, that it wanted a "more responsive service".
It said AWP was a "a large provider" which focussed on a large area and that what was actually needed was "a service that looks at Bristol and Bristol's needs".
Ms Primarolo said: "I believe we have a duty to try and get this right this time and not simply to have grand plans that look great on paper but actually don't materialise in terms of care and support to the people of Bristol."
The "preferred bidder" to run the bulk of the work is a partnership made up of Avon and Wiltshire Mental Health Partnership (AWP) and nine other community-based organisations including Second Step, Off the Record and Brunelcare.
The CCG said the tender process included consultation with more than 70 people, including 25 service users and carers.
Lou Winstone, who has used mental health services and took part in the consultation said she looked forward to "an improved and modernised service". which would be "more responsive and compassionate".
She said: "There is a sense that the service users and carers experience, views and expertise has been valued considerably more than in the past.
"We hope that this ethos developed during this process is reflected in the new service so that prevention is a matter of course for all and recovery is the norm."
Will Hall from AWP said the trust was not "providing services that people were happy with".
"I think things are changing. I don't think that changing the culture of an organisation and the way in which it works alongside other organisations and other groups within the city happens quickly," he added.
"But I think we're on the start of that journey of changing how we do things."
AWP currently provides specialist mental health services operating across Bath and North East Somerset, Bristol, North Somerset, South Gloucestershire, Swindon and Wiltshire.