Bristol love locks may become 'a menace' mayor warns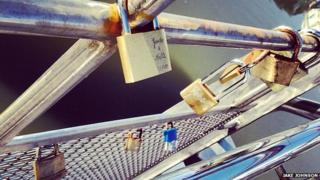 Couples should come up with their "own way of expressing their love" rather than securing padlocks to a Bristol bridge, the city's mayor has said.
About 60 so-called love locks, inscribed with romantic messages, have been attached to Pero's Bridge in Bristol Harbour.
Mayor George Ferguson warned the craze might become "a menace", because the bridge lifts and is operational daily.
Love locks are popular in places such as on the Pont des Arts in Paris.
"If you've going to express your love, do it in a way that isn't going to cause a menace. Let's think of a Bristol way of doing it," Mr Ferguson told the BBC.
"Actually, I find it rather terrifying. Locking love - I don't think one should do that. It's the wrong expression to me."
In a statement, Bristol City Council said the bridge comes under the Harbour Authority remit but, at present, the padlocks were "not causing any issue".
"If we couldn't operate the bridge due to the padlocks being in the way we would remove any padlocks necessary to operate it."
There are various theories about the origins of the trend but some attribute it to the 2006 book Ho Voglia Di Te (I Want You) by Italian author Federico Moccia.
The bond of the padlock, which is often engraved with couples' initials, supposedly symbolises the everlasting bond between two people in love.
The padlock key is then thrown into the waters below in a symbolic gesture.