Bristol judge Michael Roach questions addict's rehab delay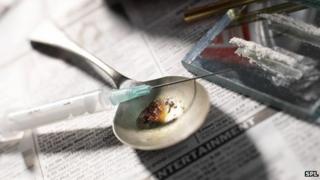 A judge in Bristol has raised concerns over a drug addict who did not get treatment six months after a court order was given.
A probation officer was summonsed to Bristol Crown Court explain the delay, after the nine-month order was issued.
Judge Michael Roach told him: "It's in the public interest that I find out what's happening."
The officer blamed a lack of available treatment places and a rise in the number of alcoholics in the area.
Uncovered demand
"What concerns me is that six months on, nothing has been done," the judge said.
The first point of contact for many addicts in the city is the Bristol Drugs Project.
There are nearly 5,000 heroin and crack users in Bristol.
Speaking after the hearing, chief executive of the Bristol Drugs Project (BDP), Maggie Telfer, said: "I think what we have at the moment is we just have a very, very large number of new people coming and not enough treatment capacity to be able to see everyone within a reasonable time ."
The charity said since a change to the service in the autumn, demand had increased.
"Actually, now we have a system which has said we really do want to help people whatever their problem is and we're just uncovering the need that was already out there," Ms Telfer added.
'System isn't broken'
When the service began in November, there were as many as 35 addicts a day being referred.
Now referrals stand at about 100 a week, with about 40 or so being alcoholics.
The BDP and three other groups are employed by the Bristol Safer Partnership to provide treatment to addicts.
Peter Anderson from the partnership said: "I want to reassure the judge that the system isn't broken, it's a new service that went live in November, it's a new service for drug and alcohol.
"We do fast-track and prioritise criminal justice clients and I would want to know the specifics of the case so we're able to look at if that person did attend, when he or she was due to attend."