Bristol guesthouse roof becomes a caravan site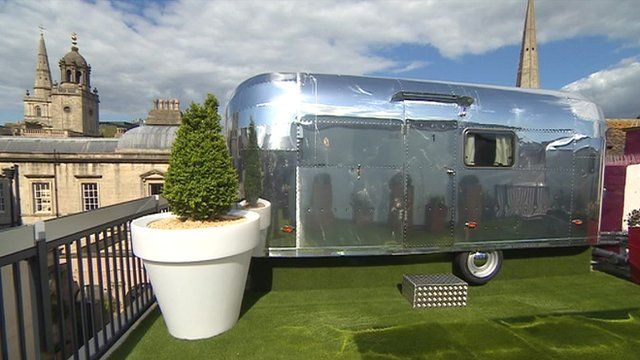 Caravans have been lifted on to the roof of a Bristol city centre guesthouse, creating what its owners claim is Europe's first rooftop site.
A 100ft (30m) crane was used to lift four vintage-style caravans 50ft (15m) on to the roof of Brooks Guest House.
Co-owner Andrew Brooks said they gave guests an "alternative place to stay", adding: "We had this empty roof space on our hotel - and it just clicked."
Bristol Mayor George Ferguson said it added "a bit of madness to the city".
Mr Brooks said the idea for the rooftop site, complete with grass and plants, came from a similar park in Cape Town, South Africa.
"When we saw it, it just clicked," he said.
"We had this empty roof space which was just sitting there as a totally dead space, with all these beautiful views in every direction.
"We thought 'For the sake of a planning application, let's give it a shot' and they [the planners] went for it."
Mr Ferguson said he took his hat off to the owners for coming up with the idea.
"Bristol is increasingly the place where we do things differently," he said.
"When we were granted European Green Capital, the European Commissioner said: 'It goes to the city with a sense of fun' - and what can be more fun than this?"
It will cost from £99 a night to stay in the caravans.