Second Bristol cash machine 'blown up' at petrol station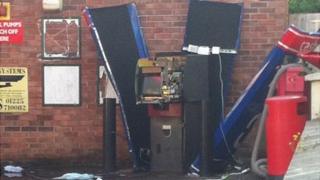 A petrol station cash machine in Bristol has been "blown up", the second to be attacked in as many months.
Police were called to the dispenser at the Texaco garage on the A420, Bell Hill Road in St George, at 03:10 BST, after reports of a "loud bang".
In April a machine on Hartcliffe Way was targeted, leaving £10 notes scattered across the forecourt.
A police spokeswoman said it was "too early to tell" if the two incidents were linked.
She confirmed that the petrol station was closed at the time of the incident and no money was stolen.
Eyewitness Charlie Roach, who was asleep at the time, said: "At about 3:15am there was an almighty bang, which I thought - when I looked out the window - had been a car accident.
"There appeared to be something in the road. Within a couple of minutes the police arrived and they had the road shut off. There were about four or five cars here for an hour or so."
Mr Roach said someone "had a go" at the cash machine a year or two previously but it had been "reinforced" since then.
BBC Radio Bristol's Nigel Dando, who went to the petrol station, said: "It appears as if the cash machine has been attacked and blown up."
He added the explosion had caused "substantial damage" and left a "charred, twisted mess".
Anyone with information has been asked to contact police.