Bristol artist fills in empty balloon on hand-drawn map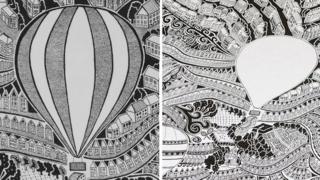 An artist has filled in an image of a hot air balloon left empty on his hand-drawn map of Bristol after asking local people for their design ideas.
Gareth Wood spent three years creating the unusual map but left the final balloon blank so "the people of Bristol could make their mark".
More than 100 designs were suggested, including Banksy, Wallace and Gromit, Brunel, Concorde and Bristolian slang.
But he chose the Children of the 90s project, saying it "fitted perfectly".
The 33-year-old artist said it had been a "tough decision" but he had chosen Bristol University's "unique" medical research project because "like many other curiosities on the map it contains a story which people share."
Lynn Molloy, from Children of the 90s, said: "The Children of the 90s balloon has been an iconic symbol in Bristol for over 20 years, so it's great to see it so firmly 'on the map'."
Mr Wood said the "hundreds of points" on the balloon represented all the people who had taken part in the project's research.
The drawings will be unveiled at It's All 2 Much gallery in Stokes Croft on 31 May.