Bristol Rovers ground 'should be war memorial'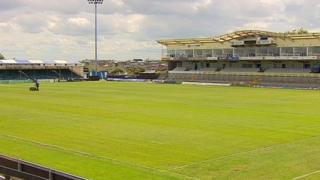 An application has been submitted to list the home of Bristol Rovers as a war memorial.
Applicant Jamie Carstairs said the "significant heritage site" was "very special" and he wanted English Heritage to have the "whole site listed".
It is not yet known how the move will affect the club's plans to build a new £40m stadium at Frenchay.
To finance the new 21,700-seat stadium, the club agreed to sell its Memorial Stadium home to a supermarket chain.
But there has been a two-year legal battle over Sainsbury's plans to redevelop the Horfield site.
'Like church without altar'
Nick Higgs, club chairman, said they now faced "another delay" and had to wait for English Heritage to issue its decision.
"We have been advised, that whilst there is little chance of this application ultimately being successful, we still have to go through the process and submit a robust response to the application to English Heritage," he said.
"The unfortunate result of these actions is another delay, which is very frustrating to all of us.
"But we still hope to be able to start the development of the UWE [University of the West of England] Stadium in the summer."
In a statement, Mr Carstairs said the Memorial Ground's pitch and the Grade II-listed entrance gates "were designed to be together and were built as an entity".
"The two parts inform and complement each other," he said.
"The gates, with their inscriptions, explain the reason for the existence of the sports ground, which in turn is the context for the gates.
"Designating the ground means that the two parts would be reunited and preserved as a whole, in a setting as originally constructed. One without the other would be like an altar without its church."
English Heritage said it was still assessing the application.