Nirmal Gill 'killed wife after she called him sad, pathetic man'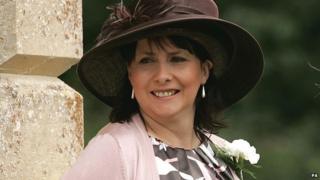 A man has told a court he killed his wife after she ridiculed him as a "sad, sad, pathetic man".
Nirmal Gill is accused of battering Rosemary Gill to death at their Bristol home last July, after uncovering an affair with her ex-husband.
Bristol Crown Court heard Mr Gill had no "actual recollection" of hitting or killing his wife but had been suicidal after agreeing to separate from her.
Mr Gill, 49, admits manslaughter but denies murdering the mother-of-two.
The court was told Mr Gill, a former soldier from St Werburghs, struck his wife in the head with a metal dumbbell at least 12 times after a private investigator he hired uncovered her affair.
The couple's daughter, Jasmine, 19, discovered her mother's body some hours later.
'Started to cuddle'
Mr Gill had been "heartbroken" when he discovered his wife's affair and "absolutely devastated" after agreeing to separate from her, the jury was told.
Hours before her death, he said he had attempted suicide by taking prescription drugs and drinking half a bottle of vodka.
Mr Gill told the court he had gone upstairs to the master bedroom, in the early hours of 20 July, after Mrs Gill had called him in.
"We started to cuddle and I was unable to get an erection," he told the jury.
"I remember Rosemary laughing at me and calling me a sad, sad, pathetic man.
"I just remember hitting Rosemary with the bar."
The trial continues.