Shrien Dewani murder accused's condition 'has improved'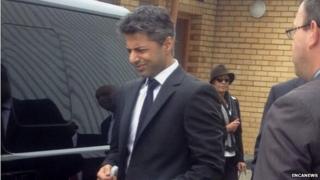 The condition of extradited honeymoon murder-accused Shrien Dewani has improved but he will remain in hospital, a South African court heard.
Mr Dewani 34, from Bristol, is accused of ordering the murder of Anni Dewani, 28, who was shot on the outskirts of Cape Town in November 2010.
Mr Dewani's lawyers told the court psychiatrists had told them he had been cooperative but lacked the ability to concentrate for any length of time.
The case was adjourned to 20 June.
The 34-year-old denies any involvement in his wife's murder
Defence lawyer Francois van Zyl told the Western Cape High Court how his client had fared in his month as a patient at Valkenberg Hospital in Cape Town.
"I am informed that he has been fully co-operative and that his condition has improved," said Mr van Zyl.
"We have been told by treating psychiatrists not to consult with him for longer than 30 minutes at a time."
He said Mr Dewani lacked the ability to concentrate for longer than this time but he remained hopeful that his client would improve enough to "instruct us properly".
Before his extradition to South Africa last month, Mr Dewani was detained in a hospital in Britain for depression and post-traumatic stress disorder.
It is the South African state's case that he conspired with Cape Town residents Zola Tongo, Mziwamadoda Qwabe and Xolile Mngeni to kill his wife.
Tongo, Qwabe, and Mngeni are already serving jail terms in connection with the murder.
Millionaire businessman
The court ordered Mr Dewani remain at Valkenberg Hospital to receive further treatment for his mental health.
He is charged with conspiracy to commit kidnapping, robbery with aggravating circumstances, murder, kidnapping, and defeating the ends of justice.
His new wife Anni Dewani died when she was shot in the neck as the couple travelled in a taxi on the outskirts of Cape Town in November 2010.
He claimed he and his wife Anni were kidnapped at gunpoint as they drove through Gugulethu in Cape Town.
He was released unharmed, but his wife's body was found in the abandoned car the next day.
The millionaire businessman is accused of paying three men to kill her during the couple's honeymoon.
Dewani has not yet been asked to plead.