Children's unit moves from Frenchay to Bristol Children's Hospital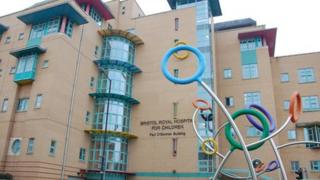 Final preparations are being made for changes to the way sick children from the West are treated in hospital.
On Wednesday the Barbara Russell Children's Unit at Bristol's Frenchay Hospital will shut.
All young patients with burns, neurological problems and those undergoing plastic surgery will move to the Bristol Children's Hospital (BCH).
From 07:30 BST on Wednesday children's accident and emergency services will also transfer to the BCH.
A trust spokeswoman said the number of patients being moved by ambulance on Wednesday would be "no more than 10".
She added the numbers of elective patients had been run down ahead of the relocation.
'Smooth transition'
The move comes ahead of Frenchay Hospital closing and the transfer of staff and patients to the new Southmead Hospital later this month.
Consultant anaesthetist Dr Amber Young, said she believed the move would be a smooth one.
"We've done training and simulations so we're hoping the physical move and the integration from one set of staff to another will be unproblematic.
"I'm confident that it will be a smooth transition," she added.
The Barbara Russell Children's Unit at Frenchay Hospital opened in 2000 and has treated some 30,000 children from across the South West.