Pitch invasion arrests after Bristol Rovers relegation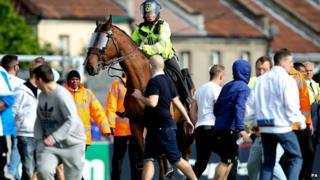 Six men were arrested after a pitch invasion at a match which saw Bristol Rovers relegated to non-league football.
The club now faces an inquiry from the Football Association after hundreds of fans stormed the pitch following the 1-0 defeat to Mansfield Town.
Three police officers were injured and a police horse was punched.
Five of the six men were released on bail pending further inquiries and one was released without charge.
The men were arrested on suspicion of public order offences and assaults.
Police commander Supt Kevin Instance from Avon and Somerset Police said: "At the end of the game, feelings were running high because of the disappointing result and unfortunately a number of fans went onto the pitch.
"Some of these people were intent on engaging in acts of significant violence."
BBC reporter Andy Howard was pitch-side when the trouble broke out. He said five mounted police officers went on to the pitch to break up the trouble.
Many of those who ran onto the pitch pointed their finger at the Bristol Rovers' chairman Nick Higgs.
Speaking after the match about the club's relegation, Mr Higgs said: "It's inevitable, ultimately the chairman and the board take responsibility for whatever happens at the club, we make the appointments, so it's only right that we should take the flack [for being relegated] when things go wrong.
"This is a sad, sad day for Bristol Rovers Football Club, but I can assure you it won't be the end of Bristol Rovers football club."