Royal Portbury Dock ship fall man died 'accidentally'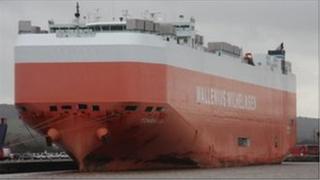 A 23-year-old man who was killed falling from a ship into Royal Portbury Dock, near Bristol, died accidentally, an inquest has found.
Gerardo Tonogbanua was killed in February 2011 when he fell into the water during an emergency exercise drill on the MV Tombarra.
Avon Coroner's Court heard the accident happened as a lifeboat was being winched back up and the wire broke.
Three other men, also from the Philippines, survived the fall.
The sailors plummeted about 30m (100ft) into the sea from the top deck of the vessel which was owned and operated by maritime services provider Wilhelmsen.
The ship was en route from Koper in Slovenia, to Zeebrugge, Belgium, with 22 Filipino crew members on board when the accident happened.