Bristol Downs stone bridge survey funded by anonymous donor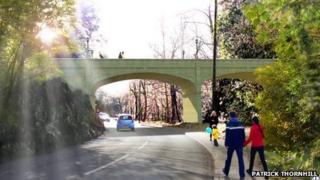 An anonymous donor has paid for surveys needed before a stone footbridge can be built on the Downs in Bristol.
Designers had no funding for the ecological surveys which must be done before the planning application can be submitted.
Engineer Adrienn Tomor said the donation of about £5,000 came "completely out of the blue".
The council's Downs Committee has agreed in principle to the idea, which will require planning permission.
Dr Tomor, from the University of the West of England, said it was very "encouraging" for the project.
She said: "Avon Gorge and the Downs are of high interest in terms of conservation and have special designations that are of national and European interest.
"First, we need to highlight any issues concerning protected species in the location and obviously if there are any, we need to then focus on those.
"If there aren't any, then we can put the planning application together and submit within the next few months."
Dr Tomor said an open day in March was attended by about 100 people - with about 75% supporting the bridge idea.
The surveys are expected to be completed by the end of May.
The structure across Bridge Valley Road would complete a circular route on the Downs, linking Clifton Suspension Bridge, the Zoo, the Downs and the Avon Gorge.