Bristol European Green Capital 2015 to get £7m investment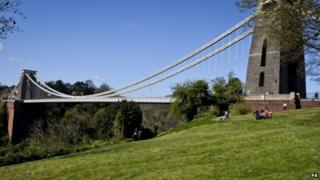 A £7m boost to support Bristol as European Green Capital 2015 has been announced by the government.
Chief Secretary to the Treasury Danny Alexander said the money would "enable Bristol to fulfil its potential".
The money will support a range of projects including an annual award for the best new clean technology and a series of summits on climate change.
Bristol is the first UK city to be named as European Green Capital since the award was launched in 2008.
Mr Alexander said the money would help to "generate millions of pounds of new green investment".
Bristol's mayor George Ferguson said he made a "very specific request to the prime minister" for assistance with Green Capital because it will "benefit the country in terms of our economic performance".
"We have got very exciting plans developing and we are dealing with the funding which is a vitally important issue," he said.
A number of new initiatives will be funded including:
A school programme to educate more than four million children across the UK about climate change
An international festival in Bristol for clean technology businesses
The Grass Roots Catalyst Fund, to develop sustainable urban living initiatives
A volunteer programme to help Bristol prepare and deal with the influx of visitors during 2015
A new annual award for best new clean technology
Climate change summits
Mr Ferguson said he is looking to businesses to invest in the Green Capital and the match funding announced by the government means "when we go to people for funding they know it is worth more".
According to a report by Bristol City Council the initial investment in the Green Capital is expected to generate about £215m of additional economic activity for the UK, through inward investment, additional business turnover, higher exports and tourism.