Bristol Park-and-Slide: thousands apply to ride water chute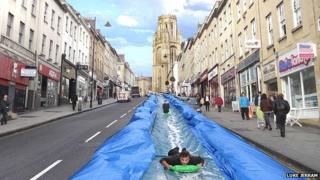 Nearly 100,000 people have applied to travel down a city street on a 90m (295ft) waterslide.
Artist Luke Jerram wants to build the temporary slide in Park Street, Bristol, using plastic sheets and hay bales for the city's Arts Weekender.
The cost of staging the Park-and-Slide event is £5,626 and the cash has been raised using a crowd-funding website.
As demand has far exceeded capacity, a ballot is due to take place with tickets being emailed this week.
Bristol-based Mr Jerram said the number of applicants represented about a fifth of the city's population.
Planned for 4 May, the event will involve closing Park Street to traffic with just the giant water chute linking Clifton with the city centre, providing a "unique and memorable once-in-a-lifetime experience".
Mr Jerram added: "[Park Street's] steep incline and prominent location makes it perfect for the slide site."
The event is still subject to safety vetting - which will govern the final number of places - and the approval of the city council.