Bristol councillor Chris Windows ends Lord Mayor bid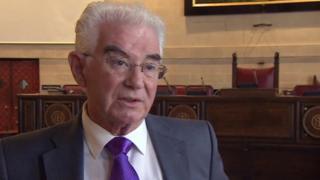 A Bristol councillor who said actor Sir Ian McKellen should not talk about homosexuality in schools has withdrawn from his bid to become Lord Mayor.
Chris Windows said he and his wife had been affected by a campaign calling for him not to be appointed.
In 2010 he said he feared "possibly confused" pupils could be open to bullying after the gay actor's visit.
The Conservative councillor said he was not prepared to see his wife exposed to the pressure caused by his opponents.
In November 2010, Sir Ian spoke to two Bristol schools on behalf of the charity Stonewall, to help them understand what it means to be gay.
'Unpleasant and slanderous'
Following the visits Mr Windows, the councillor for Henbury, said: "I'm concerned that by highlighting gay issues in schools in the way they are appearing to do it, that it can have the effect of identifying youngsters who are possibly confused."
The online petition said Mr Windows had expressed views which led to allegations of homophobia, and called for him not to be made Lord Mayor "because his views do not represent the the views of Bristol".
It attracted over 1,500 signatures in a three-week period.
Mr Windows said: "Over the last few months, my wife and I have been deeply concerned about the campaign - orchestrated by a very vocal minority - to portray me as some kind of controversial figure for the ceremonial and symbolic position of Bristol's first citizen.
"The unpleasant and slanderous attack upon my character and the pressure this has placed upon my wife is not something I am prepared to continue to expect her to endure."
A council vote about who will become Lord Mayor is to take place on 10 June.