Bristol UKIP candidate hopeful in party selection row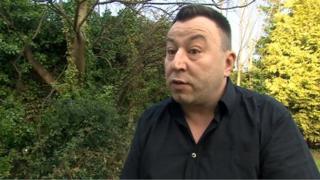 A former chairman of UKIP in Bristol has claimed he is being stopped from standing as a party candidate in the local elections.
Phil Collins stood for his party for St George West last year and came second.
Mr Collins said: "I don't think UKIP will have enough people to field enough people in all of the seats and yet it's still able to say it won't let me stand."
The Bristol UKIP committee said it was a unanimous decision not to select him.
They added that they felt Mr Collins' talents were better suited to working behind the scenes.
During last year's elections, Mr Collins secured 600 votes.
Prior to last year's elections, Mr Collins had been initially barred for saying illegal immigrants should be kept in closed down prisons but was later allowed to stand.
He was later handed an apology by the national UKIP party over the matter.
Bristol UKIP chairman Steve Wood said: "I believe our 19 candidates who are standing, and John Langley who is standing [in the St George West ward] will do very well.
"We are very positive the candidates who we've got this year will actually get into the council."