Charlotte Leslie MP donations error inquiry called for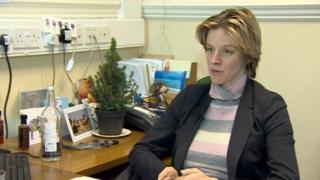 The MP for Bristol North West is facing an official investigation for breaking rules over disclosing donations.
Charlotte Leslie has apologised to the House of Commons for failing to register donations of £28,000 made to her local Conservative association.
She declared the money to the Electoral Commission, but not to Parliament.
Wayne David, Labour MP for Caerphilly, plans to refer the matter to the Parliamentary Commissioner for Standards.
"I will be doing that in the next few days," he confirmed.
"I think the Standards Commissioner should have an investigation to make sure that everything is above board and there's nothing else untoward.
"If she writes to all members of Parliament that would certainly help to clarify her situation.
"If she gives the money back that's an effective gesture and if we have an investigation by the Parliamentary Standards Commissioner then hopefully, from the point of view of her personally and of Parliament, that would be the end of the matter."
Ms Leslie has admitted her "serious error" and offered a "heartfelt apology" adding that she had not personally benefitted as a result.
The error in not declaring "comprised eight donations" dating from the year before her election in 2010 to August last year.