Murdered millionaire Andrew Bush's family left 'broken'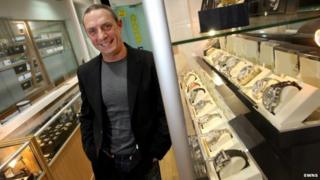 The former wife of a British millionaire murdered in Spain said her family had been left "emotionally broken" by the killing.
Andrew Bush, 48, was found shot dead at a property near Estepona, west of Marbella, on Saturday.
Sam Mason, 45, has a 19-year-old daughter, Ellie Mason-Bush, with the Bristol businessman.
Mr Bush's ex-girlfriend, Mayka Marica Kukucova, was arrested in Slovakia in connection with his death.
Hearing gunshots
Arrangements for her extradition to Spain are still to be finalised.
Reports in Spain suggested Mr Bush was shot after returning from a holiday with his new girlfriend, a 20-year-old Russian student, Maria Korotaeva.
Miss Korotaeva, a business and human resources undergraduate at the University of the West of England in Bristol, ran outside when she realised someone else was in Mr Bush's home.
She waited for Mr Bush to sort it out before hearing gunshots and seeing his car being driven away.
Ms Mason, a former BBC Radio Bristol presenter, flew to Spain at the weekend with their daughter.
Writing on Facebook she thanked the Spanish police for their dedication and said: "Our daughter, my sister and mother-in-law are finally able to grieve.
"We will never get over this as we are his family.
"We are all emotionally broken and our lives won't simply move on."