Clifton Suspension Bridge toll to rise from 50p to £1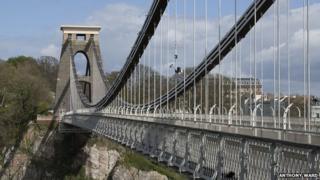 The cost of crossing Bristol's Clifton Suspension Bridge by car or motorcycle is to rise from 50p to £1 per journey from 24 April.
It follows a public inquiry held by the Department for Transport last May after opposition to the plan.
Bridge trustees argued its costs had risen "significantly" and the increase would allow it to break-even.
The National Alliance Against Tolls said it was "disappointed but not surprised" by the government decision.
Spokesman John McGoldrick, who took part in the consultation, said the was "no need" for a toll increase.
'Iconic bridge'
"The trust say that tolls are justified as it is an iconic bridge, but there are similar bridges such as the Menai Suspension Bridge, and London's Tower bridge which manage without any tolls at all.
"The government also recently announced a so-called consultation on their plan to change the law so that they can raise tolls without the publicity that a public inquiry brings," he added.
The 214m (704ft) bridge, designed by Isambard Kingdom Brunel's 214m (704ft), crosses the Avon Gorge and was completed in 1864.
Clifton Suspension Bridge Trust Chairman Chris Booy said the higher toll would enable it to continue its £9m 10-year repair and maintenance programme.
But he added regular users could benefit from a "significant" discount by buying a pre-payment crossing card.
"It is astonishing to think a structure designed in the era of the horse and cart now carries three million vehicles each year - this is both a credit to Brunel and to the care which has been taken over many generations to look after it," said Mr Booy.
The inquiry took place in May and the Department for Transport report has now been made public.