Charlotte Leslie MP apologises over donations error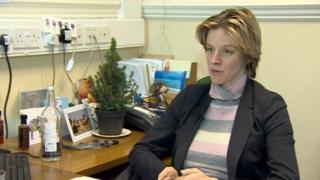 A Bristol MP has apologised to the House of Commons for failing to register donations of £28,000 made to her local Conservative association.
Charlotte Leslie declared the money to the Electoral Commission, but not to the authorities in Parliament.
The member for Bristol North West said it was a "serious error" as she had failed to declare the interest when asking questions in the commons.
She added that she had not personally benefitted as a result of the mistake.
Ms Leslie said she discovered the mistake last August when a new employee spotted it.
'Mistakes are human'
She said she "immediately phoned up the parliament authorities" and "got it sorted out".
She said she had then been notified by an email, on Tuesday, regarding three written parliamentary questions she had asked, in late 2012 and early 2013, about the proposed Severn barrage.
David Ord, from the Bristol Port Company, which opposes a proposal to build an 11-mile barrage in the Severn Estuary, had made three donations totalling £17,000 to the Bristol North West Conservatives.
Referring to the contents of the email, Ms Leslie said: "The allegation was quite understandably made, that because the Bristol Port Company was against the Severn barrage, I should have declared an interest, since they were donors to my party.
"I can reassure people that I don't get paid-off to ask questions. Mistakes are human, what is not acceptable is to hide those mistakes."
She said the donations had "no influence" over her "campaign decisions".
She added: "For example, I have been campaigning for the last six years to reopen a local railway, the 'Henbury Loop Line' which the Bristol Port Company currently opposes as it would cut through the entrance to the port."
The error in not declaring "comprised eight donations" dating from the year before her election in 2010 to August last year.