Shrien Dewani remanded to SA psychiatric hospital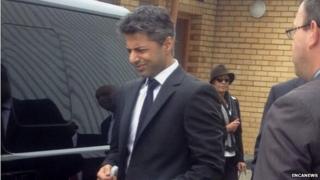 A man accused of arranging his wife's killing on their honeymoon has been remanded to a psychiatric hospital in South Africa.
Shrien Dewani, 34, appeared at Western Cape High Court accused of ordering the murder of 28-year-old Anni Dewani who was shot on the outskirts of Cape Town in November 2010.
Mr Dewani, from Bristol, denies murder.
He was extradited from the UK on Monday night after a three year legal battle to avoid returning to South Africa.
Mr Dewani landed in Cape Town on a private plane shortly after 08:00 BST.
He was taken directly to the court where the prosecution and defence agreed he should be remanded to Valkenberg psychiatric hospital.
The case has been postponed to 12 May.
'Uncovering the truth'
In a statement, Mr Dewani's family said he "remains committed to proving his innocence" and "uncovering the truth behind his wife's murder".
They added: "The extradition process has resulted in a number of assurances being provided by the South African authorities in relation to his continued hospital treatment.
"We are grateful to the South African authorities for these assurances. Shrien's family and his legal team have every confidence in the South African judicial system.
"We look forward to his health improving, his name being cleared and there being an end to this legal trauma for all involved."
The family of Swedish national Mrs Dewani welcomed the extradition adding on Monday that justice is "the only thing in our minds".
'Peculiar medical condition'
A spokesman for the South Africa department of justice, Mthunzi Mhaga, confirmed it chartered a plane to transport Mr Dewani, a medical doctor, nurse and members of the South African police service and Interpol to South Africa.
He added that a private aircraft was chosen for security reasons and because of Mr Dewani's "peculiar medical condition" which needed to be monitored.
"The situation in a commercial fight had the potential to exacerbate it," he said.
"It was therefore paramount that his return to the country is hazard free in order to ensure that he eventually makes that court appearance without hindrance."
Mr Dewani and his wife were held at gunpoint while being driven in a taxi through Gugulethu township near Cape Town.
He was thrown from the car later that night and the body of Mrs Dewani was found the next day with a single gunshot wound to the neck.
Mr Dewani was compulsorily detained under the Mental Health Act in the UK after being diagnosed as suffering from severe depression and post-traumatic stress disorder.
South African authorities have said that if Mr Dewani is not fit to stand trial within 18 months he would be returned to the UK.
Three men have already been convicted in connection with Mrs Dewani's death.