Bristol area paramedics' patient-handover delays 999 response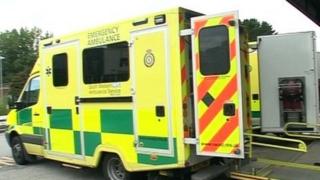 Delays in handing patients over at four West hospitals left paramedics unable to answer 999 calls for the equivalent of 107 days last year, figures show.
Crews are given 15 minutes for the transfer into hospital care but cannot leave until this happens.
South Western Ambulance said the delays are "frustrating" and it is working with hospitals to improve the figures.
In Bristol, delays have increased at Frenchay Hospital but have fallen at the Bristol Royal Infirmary (BRI).
'Real concerns'
Deputy director of service delivery at South Western Ambulance, Neil Le Chevalier, said after the handover crews had a 10-minute period to prepare their vehicle but conceded that with extra delays, and in "extreme cases", it could be more than an hour before the ambulance is available for use again.
"We have real concerns over our delays of ambulances waiting at hospitals... regrettably those delays are longer than they should be," Mr Le Chevalier said.
"Fifteen minutes is a challenge from the time you arrive at the [hospital] front door, to go in and hand over the patient to a nurse with all the diagnostic information.
"We are working very closely with the hospitals and the BRI is an example where we've seen some dramatic improvements and at Frenchay we've got the move to Southmead [Hospital] so there is light at the end of the tunnel."
Much of Frenchay Hospital is in the process of preparing to move to the new Southmead Hospital site, which has exacerbated delays.
However, now work to build a new reception area at the BRI has been completed, the problems have eased.
'Working on recruitment'
North Bristol NHS Trust (NBT), which is responsible for Frenchay Hospital, said it "fully recognised the importance of keeping ambulances on the road and reducing the time they have to spend at hospitals".
"[We are] working with the ambulance trust to recruit more crews so nurses are not held up once they have arrived at the emergency department," a trust spokesman said.
The figures for Frenchay Hospital, the Bristol Royal Infirmary, Bath's Royal United Hospital and Weston General were published on the Bristol City Council website and cover the time period from 1 April 2013 to 28 February 2014.
A spokesman for the Royal United Hospital said transfers over 30 minutes accounted for 0.34% of the total clinical handovers from ambulances to the hospital.
South West Ambulance employs more than 4,000 mainly clinical and operational staff and operates across Cornwall, Isles of Scilly, Devon, Dorset, Wiltshire, Gloucestershire, Bristol, Somerset and South Gloucestershire.