Gala Casino hospitality manager Martin Palmer is jailed for fraud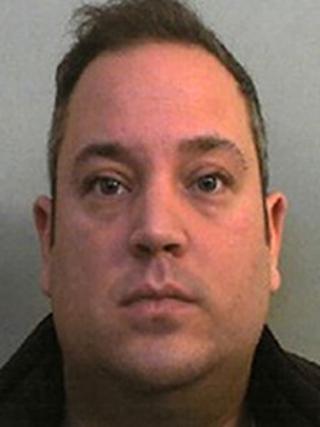 A hospitality manager from Bristol who stole nearly £55,000 from a casino in the city to fund a cocaine habit has been jailed for two years.
Martin Palmer, 35, of Grantson Close, supplied hundreds of forged invoices to Gala Casino, claiming food was being supplied by Italian chain Carluccio's.
Bristol Crown Court heard staff there became suspicious of his invoices - including 17 submitted on one day.
He admitted fraud by abuse of position after previously denying wrongdoing.
'False invoices'
Palmer convinced the casino's head office in London to approve payments in petty cash for the non-existent food, which he then pocketed.
The court was told the fraud, which lasted between April 2011 and August 2013 involved £54,880 and led to other members of staff being made redundant.
Over a 22-month period, Palmer, who was responsible for the branch's food and bar, submitted 228 false invoices, including some from other catering companies.
Judge Euan Ambrose told Palmer his actions caused the casino's general manager, George Gordon, to offload three members of staff.
"You were there, you saw people being made redundant. You knew it was due to the financial state of the casino, yet you continued to steal," the judge said.
"You had a cocaine habit for some six years or so. That is where the money went."
In mitigation, Palmer's lawyer told the court his client was of previous good character and was "very sorry" if his actions had impacted on any jobs at the casino.
A proceeds of crime hearing is due to take place at the court at a later date.