Bristol NHS Trust to pay for care of brain-damaged boy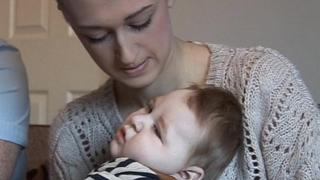 An NHS trust has admitted liability and agreed to pay for the lifetime care of a two-year-old boy who suffered severe brain damage during birth.
Ollie Lewis, from Weston-super-Mare, was delivered with the umbilical cord around his neck at St Michael's Hospital in Bristol in February 2012.
He was resuscitated but is blind, has epilepsy and cerebral palsy and will require round-the-clock care for life.
The hospital trust admitted errors were made by midwives during the birth.
In lieu of a lifetime settlement, the University Hospitals Bristol NHS Foundation Trust has offered an undisclosed interim payment to cover the cost of medical equipment and provide immediate additional support from specialist carers.
His parents, Neil Lewis and Charmaine Malcolm, said they are "relieved" that Ollie's future will be financially secure.
'Deeply sorry'
Mr Lewis said: "We just hope that the trust has done everything possible to improve the care other new mums and babies are given to ensure no-one else has to go through a similar ordeal."
When Ollie was born he was not expected to live any longer than two hours because midwives did not monitor Ms Malcolm to realise she was in established labour.
They also did not check his heart rate which was dropping dangerously low and would have shown he was in distress and his brain was being starved of oxygen.
Robert Woolley, chief executive of the trust, said he was "deeply sorry" for the errors made and the "extreme stress" caused to the family.
He said: "We have been aware of the enormous hardship faced by Ollie's parents and we hope that by taking this step we are helping to alleviate their immediate financial pressures and to secure Ollie's future needs."