Bristol half marathon race bars double amputee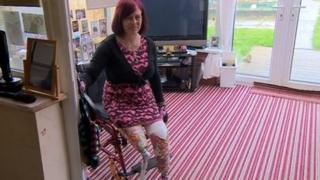 A woman who lost both legs in a fire has been told she can not enter the Bristol Half Marathon because she will not finish within three hours.
Jo Blinman believes the council - which organises the race - is guilty of discrimination, because she can only enter as a "guest".
She said any other able-bodied person was welcome to take part in the race.
Bristol City Council denied discrimination, saying it could not offer support for the time needed.
That support would include road closures, first aid and stewards
'Organise own race'
Ms Blinman and her team from the charity Paul's Place applied for six places in September's race but were told they could not take part.
They want to raise enough money to buy new prosthetic legs for her.
"At the moment they are too big," Ms Blinman said.
"One [leg] doesn't bend and sometimes where it doesn't click in I go smack down on the floor."
In a statement the city council said: "As a solution, we suggested that this group wishing to take part enter as guests.
"They would need, in effect, to organise their own event but could start the race with everyone else and would receive medals as everyone else would.
"That opportunity is still open to them."
But Kath Aldom from Paul's Place said the council was quoting "policy and procedure".
"That's not good enough," she said.
"We need to find ways that we can participate, not why we can't."