Bristol Rovers' Sainsbury's judicial review appeal refused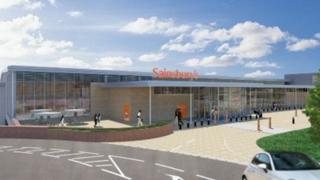 A group fighting plans to develop a football ground into a supermarket has been refused permission to appeal against a court ruling made last week.
Sainsbury's wants to build a new store at Bristol Rovers' Memorial Stadium in Horfield which would fund the club's move to a new site in Frenchay.
TRASHorfield was concerned about the impact on traders on nearby Gloucester Road and sought a judicial review.
A High Court judge dismissed the group's legal challenge on Thursday.
'Two clear decisions'
Campaign group TRASHorfield had argued that when granting planning permission for the store, councillors had failed to consider the full impact on local shops in Gloucester Road.
But the judge found in favour of Bristol City Council, which said the proper planning processes were followed.
The group then sought an appeal and has also announced local Green councillor Daniella Radice was standing down as a director.
Ms Radice said she did not have "sufficient confidence in the process" to continue.
A Bristol City Council spokesman said: "We are pleased to hear that permission to appeal has been refused.
"Although there is now another week in which TRASHorfield can appeal this finding, we hope that they will accept what are two very clear decisions."