Bristol City stadium revamp plans avoid legal challenge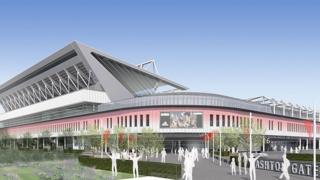 A major revamp of Bristol City's Ashton Gate ground will not face any legal challenge, the club has announced.
Developer Bristol Sport Ltd said it was "an important step" to get through the time allowed for potential judicial review applications to be made.
Some £40m will be spent building two new stands and redeveloping another two, with work to begin in May.
Neighbouring club Bristol Rovers last week won a court battle over plans to sell its ground and build another.
No 'make-over'
Campaigners' complaints were dismissed by a High Court judge paving the way for the League Two club to sell their stadium to Sainsbury's and build a new £40m ground.
Bristol City had also wanted to build a new stadium but those plans were delayed by an application for a town green.
Instead, the League One club decided to spend money redeveloping the ground it already uses.
Martin Griffiths, chairman of Bristol Sport, said the plans were "no 'make-over' or second best alternative" and, following the redevelopment, the city would "get a new stadium to be proud of".