Bristol Rovers' Sainsbury's row cost tax payer £20,000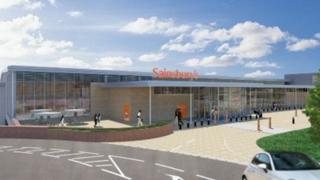 A £20,000 bill to the taxpayer for a judicial review into the building of a supermarket is "deeply regrettable", Bristol City Council has said.
A High Court hearing was held after campaign group TRASHorfield launched a legal challenge against building a Sainsbury's on the site of Bristol Rovers' Memorial Stadium.
The challenge was dismissed on Thursday and the group has seven days to appeal.
The sale of the site will fund a £40m new ground for the football club.
TRASHorfield argued that when granting planning permission for the store, councillors had failed to consider the full impact on local shops on Gloucester Road.
But the judge found in favour of Bristol City Council which said the proper planning processes were followed.
'Recover costs'
Chris Windows, chair of Bristol City Council's Development Control Committee, said the delay caused by the review had "been extremely frustrating".
He added while TRASHorfield still have the right to appeal, he hopes "the very clear-cut findings" of the judge will mean that objectors will now accept the decision.
"We will be seeking to recover what legal costs we are able to from TRASH," he said.
"However, this will still leave Bristol taxpayers having to pick up a legal bill amounting to £20,000, something that is deeply regrettable."
Bristol Mayor George Ferguson added the appeal against the decision by city council planners "has been damaging at a time when our efforts should have been focussed on raising the profile of Bristol".
TRASHorfield said it is reviewing the details of the judgement before making an announcement regarding any further action.