Bristol Rovers' Sainsbury's sale complaints dismissed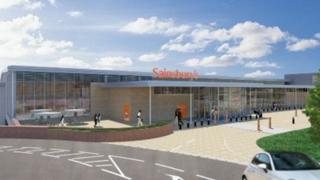 Bristol Rovers FC will be allowed to sell their Memorial Stadium to Sainsbury's, paving the way for them to build a £40m new ground, a judge has ruled.
Last week, a High Court judge heard evidence in a legal challenge brought by campaign group TRASHorfield.
It argued planning permission for a store at the site of the ground failed to consider the impact on local shops.
But Mr Justice Hickinbottom dismissed the complaint from the traders' group.
During the hearing, held at the Bristol Civil Justice centre, TRASHorfield claimed that when Bristol councillors made the decision to approve the Sainsbury's store they were not fully aware of a study predicting a £7.7m impact on traders on the Gloucester Road by 2017.
But Bristol City Council said the proper planning processes were followed and "properly and clearly drawn to the [report] reader's attention".
'Sense has prevailed'
In the judgement Mr Justice Hickinbottom said: "I am quite satisfied that the officers' report was not misleading at all - and certainly not significantly misleading."
He added that "with appropriate fairness and fullness" the report had properly identified the retail impact of the proposed development on the town centre and "properly set out" the evidence for the planning committee councillors.
Handing down the judgement he said TRASHorfield had seven days to appeal.
The decision paves the way for the supermarket to be built at the Memorial Stadium which will help finance the club's new ground at Frenchay.
The club said it was aiming to start building the ground this summer and hoped to move into the new stadium during the 2015-16 season.
Chairman Nick Higgs said: "I am delighted that common sense has prevailed and the right decision has been made here today.
"This delay has cost us a lot of time and money, but we are now able to push forward once again."
Following the judgement TRASHorfield said it was "profoundly disappointed" with the decision.
"We will carefully review the details of the judgement before making an announcement regarding any further action in due course," it said in a statement.
"Importantly, we would like to acknowledge the tremendous support we have received from the local community for this campaign."
The Mayor of Bristol George Ferguson said the delay had been "a deeply frustrating time" and the decision was a "relief".
"Bristol Rovers can now hopefully forge ahead with developing a new first-class stadium," he added.