Capsized narrow boat removed from canal lock near Bath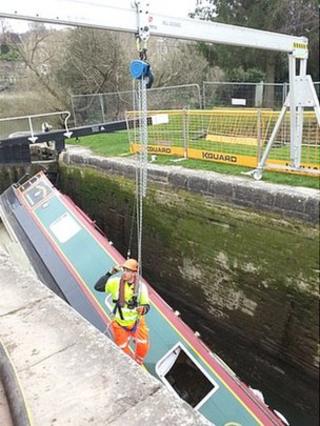 A capsized narrow boat which partially closed the Kennet and Avon Canal near Bath for five days has been removed.
Lock 11 on the Kennet and Avon Canal near Widcombe, was closed on Saturday after a hired boat overturned.
According to the Canal and River Trust, the boat rolled over after getting caught on a ledge at the back of the lock as water drained out.
A 30m (98 ft) winch was used to pull the boat off the cill before the water was pumped out and it was refloated.
The canal is set to reopen later on Friday but the canal below the lock needs to be topped up with water before it is reopened to boats
Joe Coggins, from the trust, said: "We had to use a winch to twist the boat back into position because we couldn't get a big enough crane on to the tow path.
"But we haven't had to drain the lock completely and we haven't had to do a fish rescue, as there was enough water in the bottom of the lock."