Pod travel plan for Bristol enterprise zone shelved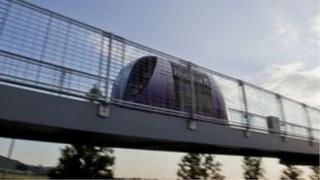 Plans for automated pods on a guided roadway to transport workers around a multimillion-pound enterprise zone in Bristol have been shelved.
The city council had been considering the plan for the business park close to Bristol Temple Meads railway station.
Mark Bradshaw, who is responsible for transport and regeneration, said the project could have cost up to £100m.
The pods would have been similar to those in use at Terminal 5 at London's Heathrow Airport.
It had been thought the Bristol scheme could have been extended to the nearby Temple Meads railway station and the Cabot Circus shops.
Mr Bradshaw said the council had examined the pod idea but once fully considered did not offer a viable transport link to the Temple Meads enterprise zone, the Bristol Post reported.
"It would have cost in the region of £60m-£100m to build, the capacity limitations would affect commercial viability and any capital investment would not be paid back before 30 years at the earliest," the assistant mayor said.