Bristol solicitor Katy Gammon admits leaving dog to starve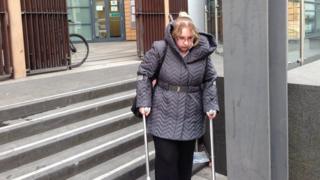 A solicitor has pleaded guilty to cruelty after she left her dog to starve to death in a house in Bristol.
Katy Gammon, 27, from Lawrence Weston, locked boxer dog Roxy in the kitchen of her house with no food or water and tied the door shut with rope.
The body of the dog was only discovered after neighbours called the police. The RSPCA said Roxy had died a slow and painful death over three to six days.
Ms Gammon will be sentenced at Bristol Magistrates' Court on 9 April.
Gammon had left the five-year-old dog in the house for around ten weeks and when she returned she looked through the letterbox and could not go inside because the smell was so bad.
'Scratch way out'
During an interview with the RSPCA, Gammon said: "I assumed she was dead. I never went back."
Insp Miranda Albinson asked if she had "deliberately locked" her in the kitchen and then "left her for a week to die".
Ms Gammon replied: "Yes, basically."
The court heard that Roxy had "tried to desperately scratch her way out of the kitchen".
A vet said the dog had died slowly and painfully from starvation and dehydration, becoming blind and falling into a coma before dying of organ failure.
Speaking after the hearing, Ms Albinson said Gammon had "shown no remorse".
Defence solicitor Joanna Lyons said her client was "mortified on every level for all the suffering she caused Roxy".
She said Gammon appeared to have "some psychiatric issues" and asked for sentencing to be adjourned while a report was prepared.